February Member News

Hello BIASC Members,

HOUSING HOUSING HOUSING
February was a busy month, as BIASC sent delegations to the following:
Amazon Headquarters: 50,000 employees
International Building Show: 90,000 attendees
BIASC Capitol Day: 120 State Elected Officials & 1 Governor
CBIA Winter Governance Meetings: Top Builders in CA
No matter where we go, the hottest topic is HOUSING, and with that much interest, major changes to our industry are likely. To get a quick snapshot, click here.

NEW MEMBERSHIP CONCIERGE
We added 25 new members this month with our new Membership program kickstarted by Janine McKenna, head of our new Membership Concierge Services program. This service allows members to request information or help on anything at any time. Click here to contact Janine.

Additionally, BIASC's FRONT ROW event series will be hosting member events at PCBC, Washington D.C. and at the Southern California Association of Governments regional conference in Indian Wells. Click here for more information. We hope to see you there.

Sincerely,




Jeff Montejano
CEO, BIA of Southern California
Front Row California

Yesterday was a historic day for BIASC as our government affairs team, our BIASC Chair Tom Grable, and CBIA led a group of our top builders, trades and associates through 10 meetings with top state housing appointees and legislators at the Capitol, including:

Governor Gavin Newsom's Office

Deputy Legislative Secretary Ronda Paschal
Legislative Secretary Anthony Williams
Chief Deputy Cabinet Secretary Jason Elliott

Assemblymember David Chiu, Chair of the California State Assembly Housing & Community Development Committee
Senator Scott Wiener, Chair of the Senate Housing Committee
Senator Mike Morrell, Vice Chair of the Senate Housing Committee
And many more
CBIA Winter
Governance Meetings

This morning, Assemblymember David Chiu, Executive Director of the California Housing Finance Agency Tia Boatman Patterson, and Senator Mike Morrell spoke on a panel addressing moving housing forward at California Building Industry Association's Winter Governance meetings.

We are looking forward to CBIA's Legislative reception this evening and Government Affairs Committee tomorrow morning.
BIASC Front Row
Amazon Recap

We embarked on an an incredible tour of Amazon's headquarters in Seattle thanks to our former Building Industry Show keynote speaker Jay Symonds with presentations on new smart home technology by Amazon executives, and a special guest appearance and motivational session by NFL great, Jedidiah Collins. We toured the Seattle Spheres, experienced an Amazon Go store, visited a few of Washington's finest wineries, and more.

We appreciate everyone who joined us for this memorable experience, including building industry leaders from TRI Pointe Homes, William Lyon Homes, Brookfield Residential, San Diego Gas & Electric, and other leading businesses, including Under Armour, International Executive Council, and more.

As an industry, let's continue to adopt Amazon's "day 1" mentality by channeling the excitement, energy and creativity sparked from day one on the job to evolve greater innovation and technology into our homes, businesses, and lifestyle.
NAHB #IBS2019

Over 90,000 attended NAHB's annual International Builders Show in what soon became a snowy Las Vegas. This year's show featured over 1,500 exhibits and numerous featured speakers including Dr. Ben Carson, United States Secretary of Housing and Urban Development.
Front Row
Washington D.C.

June 19-21, 2019
The Willard InterContinental

Lobby Capitol Hill and meet with key national leadership. Executive Branch Meetings, Capitol Hill Meetings, NAHB Housing Update, VIP Reception, and more.

REGISTRATION COMING SOON

Email acisneros@biasc.org and join our interest list. Join us in the Front Row.
Video: BIS 2019
Expected the Unexpected

Join our interest for the latest updates.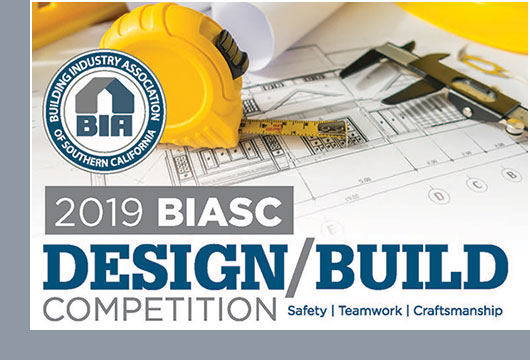 2019 BIASC Design/Build Competition

The Annual Design/Build Competition brings tomorrow's builders and today's professionals together in a fast-paced, two-day build project that mimics the "real-world" pressures of inspections and deadlines while enforcing the values of safety, teamwork and craftsmanship.

If you are interested in being part of the committee, making a donation, or becoming a corporate sponsor for the event, please contact Amy Cisneros at acisneros@biasc.org.