Small Business Resources
U.S. Chamber of Commerce Coronavirus Emergency Small Business Guide and Checklist
View Now »

How to Access Stimulus Funding for Your Small Business
View Now »

The Small Business Owner's Guide to the CARES Act
View Now »
URGENT: Masks Needed

We need your help to support those in the health industry who are on the front lines of the COVID-19 Pandemic by donating masks and protective eye wear.

Any number of masks and/or protective forms of eye wear you can donate will be an incredible help. If anyone gives 25 out of their stock, we can help save lives.
ORANGE COUNTY & RIVERSIDE COUNTY

Drop-off donation locations in both Orange County and Riverside are available Monday-Friday during business hours at Reliable Wholesale Lumber.
Reliable Wholesale Lumber
7600 Redondo Circle
Huntington Beach, CA 92648

Reliable Wholesale Lumber
1450 S. Citrus Street
Riverside, CA 92507

You may also donate masks to Riverside Medical Clinic by calling 951-782-3744 and asking for Janet.
VENTURA COUNTY

Drop-off donations can be made at Concord Communities (Lennar Job Site) Monday-Friday 8:00AM-5:00PM.

Concord Communities
(Lennar Job Site)
26407 Brahman Court
Santa Clarita, CA 91350
SAVE THE DATE

New Date: September 23
PAC Gala
Save the date for the 2020 BIASC PAC Gala the Richard Nixon Presidential Library and Museum
Purchase Tickets »

October 6-8
BIS 3.0
Read Full Release »
INTRODUCING:
Front Row LIVE

Our Premiere Webinar Series

For the first time ever, connect with BIA of Southern California for an online exclusive webinar series featuring live presentations with leading experts in the building industry, marketing, politics and more.

Tune in to this series anytime, anywhere as we bring the best and brightest builders, entrepreneurs, local elected officials, and community leaders from the building industry to your home.
April 2 | 10:00 AM
Utility Boot Camp:
How Utilities are Dealing with COVID-19, and their Current Field Plans
Hosted by BIASC, SoCal Edison, & SoCalGas
RSVP Today »
April 6 | 10:00 AM
COVID-19 - Federal, Regional and Local Government Response
Hosted by BIASC Riverside
RSVP Today »
April 8 | 10:00 AM
BILD: The Legal Aspects of State and Regional Directives
Hosted by BIASC
RSVP Today »

April 6th | 11 AM PT | 2 PM ET

Webinar: Continuing Safe Permitting and Inspection Practices during COVID-19: Free Webinar

Join us for a live webinar addressing how building departments can continue operations using no-touch permitting and inspection practices while preserving permitting and inspection quality.

Jointly hosted by the Interstate Renewable Energy Council (IREC), Sustainable Energy Action Committee (SEAC), and the International Association of Electrical Inspectors (IAEI) in partnership with the California Solar and Storage Association.

Panelists include:
Mostafa Kashe, Chief Electrical Inspector, Los Angeles County
Dave Gans, Chief Building Official, Oceanside, California
Darold Wiley, Sr. Electrical Inspector, Irvine, California
Donny Cook, Chief Electrical Inspector, Shelby County, Alabama
RSVP Today »
| | |
| --- | --- |
| REGIONAL | Click below to view each BIASC Chapter's Full List of Events |
Introducing: The California Investor Report

The California Investor Report is BIA of Southern California's newest subscription-based service offering an invaluable source of information for real estate professionals and investors worldwide who are interested in the latest news and data impacting California's dynamic residential real estate market just a click away.

Content included in the California Investor Report includes the latest:

• Housing news and politics
• Home sales and price reports
• Mortgage rates
• Construction permit data
• New home developments
• Historical residential real estate data
• Housing podcasts


New Home Showcase

Introducing New Home Showcase, the #1 online traffic sales generator in SoCal for homebuilders. Start your 30-day free trial today by clicking below or emailing listingsupport@biasc.org.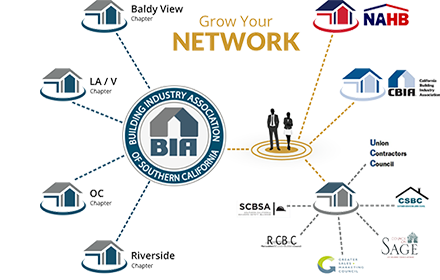 Hello BIASC Members,

Please join us in welcoming our newest BIASC members! Connect with a powerful network of professionals involved in building and construction.

View Member Benefits »
March 2020
AMC Framing Enterprises, Inc.
Anton DevCo
Banuelos Plumbing, Inc.
BPM Investments, LLC
Century West Concrete
Development & Public Finance, LLC
Golden State Cleaning, Inc.
Grandway Residential
H.J. Fotinos, Inc.
Home Consignment Center
Kana Pipeline, Inc.
Karl Dakteris, Architect
Landscape Resources, Inc.
Lorber Greenfield & Polito, LLP
McCarthy Companies
Meyers Research LLC / Metro Study
Residential Elevators, LLC
Rinnai
Sante Fe Winwater
Tait & Associates, Inc.
The Pisetsky Method
Follow BIASC across our social media outlets and stay up-to-date on the latest building news, industry accomplishments and member updates!