May Member News

Hello BIASC Members,

As California continues to pursue aggressive housing policy solutions, we will continue to engage our state and local elected officials through education and collaborative efforts to help solve the state's 3.5 million housing shortage. Key legislation to watch that would directly impact our industry includes:

Oppose - SB 307 (Roth)/Bill Status: In Progress
SB 307 seeks to create a new undefined process which would negatively impact the Cadiz Water Project, a project that would create over 5,000 new jobs and supply water for 400,000 people in Southern California. We will continue to monitor and update membership on the bill's status.

Oppose - SB 732 (Allen)/Bill Status: Dead
In an unprecedented move, SB 372 would have allowed the South Coast Air Quality Management District to impose, increase, or extend a transactions and use tax.

I would like to thank the following BIASC members for their exemplary dedication and leadership to BIASC for our special events this month:
Board Member Dave Bartlett and his team at Brookfield Homes for hosting our Junior Builder Kick Off Event - View Photos Here
Board Member Greg McWilliams of Five Point for making waves on SCAG's Housing Panel
Board Member Alan Boudreau of Boudreau Pipeline for all the dedicated time in our office as BIASC Treasurer
Upcoming Events - Registration Open NOW


Jeff Montejano
CEO, BIA of Southern California
BIASC Goes to
Washington D.C.

Members, we invite you to join BIASC Front Row for an unforgettable VIP advocacy trip to our Nation's Capital, June 19 -21, 2019. We will be lobbying Capitol Hill, meeting with the Executive Branch, and staying at the historic Willard InterContinental Hotel, located just down the street from the White House.

Space Limited
Reserve Your Spot Today

For questions, please contact Ana Gromis at agromis@biasc.org.



Join Us at PCBC

Join leaders, staff, and fellow members of BIASC for a toast in the loft of one of San Francisco's swankiest bars.

Builders Attend FREE


Junior Builder
Camp Kickoff

Our Junior Builder Kickoff and official ribbon cutting was a smashing success as junior builders demoed the Roblox game 'Welcome to Bloxburg,' toured the Brookfield Residential Design Studio, and enjoyed numerous other activities including face painting, balloon animals, games, and even a meet-and-greet with beloved Star Wars character Chewbacca!

Thank you to our event host Brookfield Residential, our amazing team of volunteers, and our generous sponsors for making this event possible, including Beach Drapery, C9 Balloons, Moen, Morey Remodeling Group, BIAOC Next Gen, The New Home Company, and Southern California Partnership for Jobs.

Register NOW for the official Junior Builder Camp: July 29 - August 2, 2019.


Sponsorships Available
2019 PAC Gala
Announcing Our PAC Gala Guest Speakers

Please join us for our most important BIASC event of the year at the beautiful Richard Nixon Library to hear from guest speakers Michelle Malkin and Jim Messina.

Michelle Malkin is a successful political blogger, conservative syndicated columnist, and author.

Jim Messina is a political advisor, former White House Deputy Chief of Staff, and former Presidential Campaign Manager for President Obama's 2012 re-election campaign.

Sponsor/Purchase Your Tickets for this Unforgettable Evening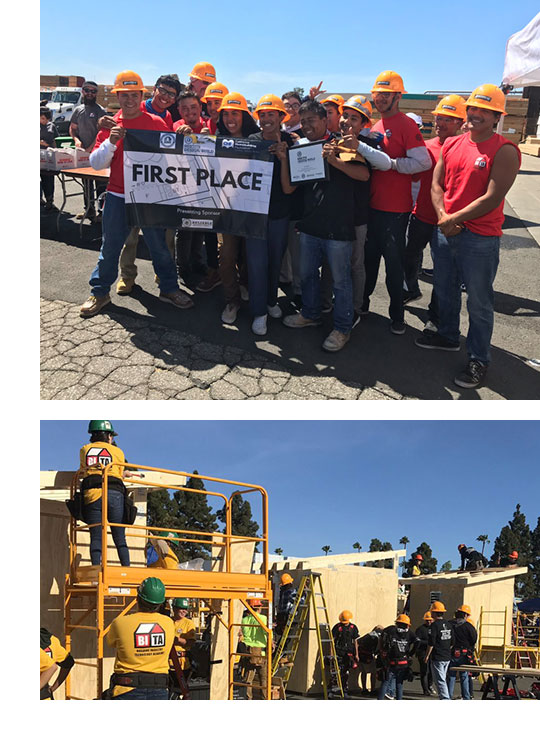 Earlier this Spring, 12 student teams from Southern California Youth Build divisions and North Orange County ROP Building Industry Technology Academy (BITA) programs competed for the coveted Design/Build Competition title in Huntington Beach at Reliable Wholesale Lumber.

The competition, coordinated by BIASC, awarded first place to the team from Estancia High School and second place to the team from Brea Olinda High School.

BIASC and CHF would like to thank the following sponsors: ARC, Boudreau Pipeline Corporation, Brookfield Residential, CBIA, Dahlin Group Architecture Planning, Paulus Engineering, Power Plus, SCBSA, Shea Homes, Taylor Morrison, Toll Brothers, United Site Services, Vital Link and Win-Dor, Inc.

The competition would not be possible without the support and dedication of Randall Richards and Reliable Wholesale Lumber. Additionally, we would like to thank the Southern California Builders Safety Alliance for judging the event and sharing their wisdom with the participating students.



Read Now: Design Build featured in the OC Register
Building Industry Show 2.0

Check out our full list of events, including keynote speaker Vice President Dick Cheney, at BuildingIndustryShow.com.


New Home Showcase

Introducing New Home Showcase - the #1 online traffic sales generator in SoCal for homebuilders. Start your 30-day free trial today by calling 949-777-3848 or clicking below.