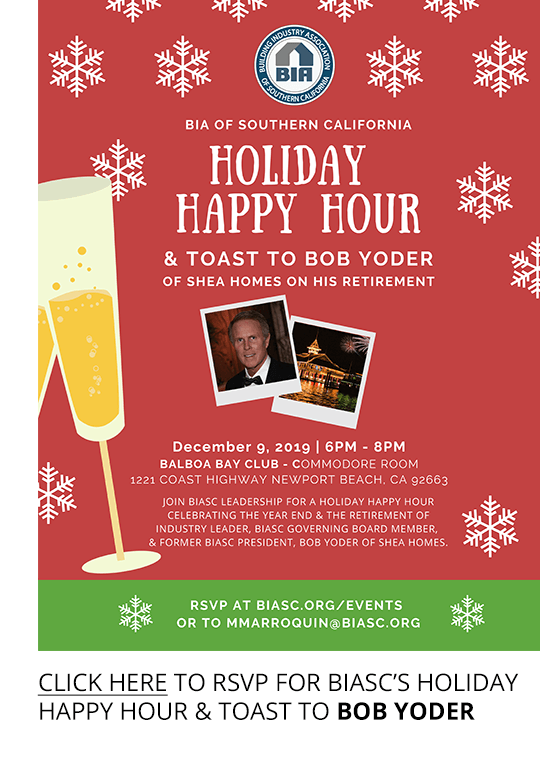 November Member News

Hello BIASC Members,

Another successful year at the BIA of Southern California is closing with year-end celebrations at each chapter. We thank our 2019 Chapter Presidents for their leadership: Phil Burum (BIASC-Baldy View), Derek Leavitt (BIASC-LAV), Rick Wood (BIASC-OC), Mike Taylor (BIASC-Riverside) and welcome the 2020 incoming Chapter Presidents: Jim Perry (BIASC-Baldy View), Dave Little (BIASC-LAV), Sunti Kumjim (BIASC-OC) and the return of Mike Taylor (BIASC-Riverside). Additionally, we thank BIASC President Tom Grable for his dedication and administration of our organization this past year, and look forward to another year under his leadership.

This week, we celebrate thankfulness - and we couldn't be more thankful for you, our members. Our profession - providing new homes - is one of the noblest. At the end of the day, doctors, teachers, nurses, firefighters, and influencers, all rest soundly with a roof over their heads in peace and safely. Despite what the NIMBYs and naysayers say, we will continue to advocate for housing in 2020 and in the new decade that lies ahead of us by continuing to be the voice of the home building industry for Southern California.

P.S. - Don't forget to join us for our Holiday Happy Hour on Monday, December 9th at the Balboa Bay Club as we celebrate the year end and toast to the retirement of industry leader, BIASC Governing Board member, and former BIASC President, Bob Yoder of Shea Homes.

Register HERE to attend »

Upcoming Events - Registration Open NOW New Programs BIASC Media News




Jeff Montejano
CEO, BIA of Southern California
| | |
| --- | --- |
| December 12th: BIASC Baldy View Annual Holiday Charity Gala & Silent Auction | |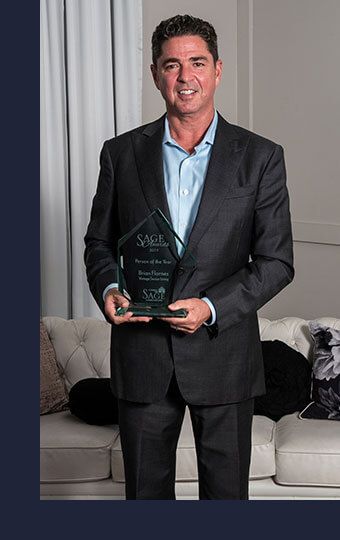 2019 Council on SAGE Awards

The 25th Annual SAGE Awards took place on Thursday, November 21 at Fete the Venue. Congratulations to 2019 SAGE Persons of the Year Eric Davidson & Brian Flornes of Vintage Senior Living, and to all of the 2019 SAGE Award Winners:

• Best 55+ Market Rate Rental Community "On the Boards"
Revel Palm Desert by Architects Orange

• Best 55+ Assisted Living/Special Needs Community
Kensington Redondo Beach by HPI Architecture

• Best 55+ Assisted Living/Special Needs Community
Kensington of Redondo Beach by Klang & Associates, Inc.

• Best 55+ Remodeled Project
Regency Palms Long Beach by KTGY Architecture + Planning

• Best 55+ Indoor Common or Amenity Space
Sun Bay Senior Club by KTGY Architecture + Planning

• Best Landscape for a 55+ Community
Vireo by Land Concern

• Best 55+ Assisted Living or Special Needs Community "On the Boards"
Griffin Plaza by Land Concern

• Best 55+ For-Sale Community
Altis by Pardee Homes

• Best 55+ Clubhouse
The VuePoint at Altis by Pardee Homes

• Best 55+ For-Sale Community "On the Boards"
Regency at Folsom Ranch by SMP Environmental Design

• Best 55+ Affordable Rental Community
The Gateway at Willowbrook by Withee Malcolm Architects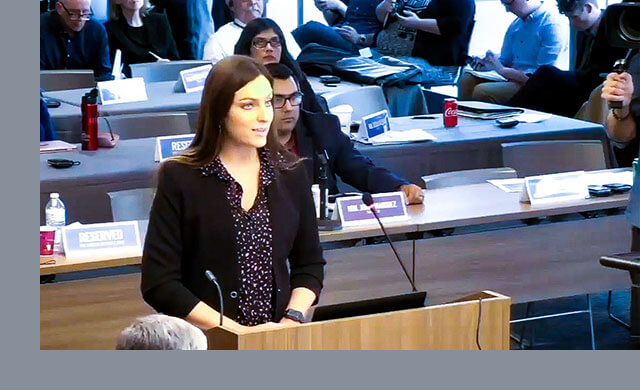 Government Affairs News: SCAG Update

On November 7, 2019, BIASC Public Affairs Manager Karissa Willette attended the Southern California Association of Governments (SCAG) Regional Council meeting supporting a new RHNA methodology - a new housing-growth plan for Southern California - that advocates for the building of more housing in areas where vacant land exists versus building more high-density infill.

The meeting was attended over-capacity by local elected officials from throughout Southern California, including Los Angeles Mayor Eric Garcetti.

The majority of the SCAG Regional Council voted for a new coastal-growth plan that will require Los Angeles and Orange counties to plan for 124,000 additional houses compared to the alternative plan, which largely would have shifted those homes to Riverside and San Bernardino counties where more vacant land is available.

The California Department of Housing and Community Development now must review the approved plan, after which SCAG is hopeful to finalize the formula early next year. BIASC will continue to the progress of this new plan.

To join the BIASC Government Affairs Alert List, please email kwillette@biasc.org.
New Home Showcase

Introducing New Home Showcase, the #1 online traffic sales generator in SoCal for homebuilders. Start your 30-day free trial today by calling 949-777-3848 or clicking below.