Sacramento Advocacy Trip

Join BIASC Leadership as we build strategy for housing advocacy in 2020. This trip includes:

• Lobby Day at the Capitol
• Meeting with Governor's Office
• Meetings with California Legislators
• VIP Tours & Access
• CBIA Winter Governance Meetings
• Cocktail Reception


LOCAL
SCAG Update
Read BIASC's Comments on the Draft "Connect SoCal" (SCAG's 2020-2045 Regional Transportation Plan/Sustainable Communities Strategy)
Read Comments »

SCAG Regional Housing Needs Assessment (RHNA) Working Groups
BIASC will be organizing RHNA workshops at each BIASC Chapter for BIASC members to participate in. If you are interested in participating, please contact Karissa at kwillette@biasc.org or Maribel at mmarroquin@biasc.org.


FEDERAL
NAHB Leadership Update
BIASC is pleased to announce that BIASC Baldy View Immediate Past President Phil Burum of D.R. Horton, BIASC Governing Board Member and BIASC PAC Chair Steve Schuyler of the Irvine Company, and BIASC Governing Board Member Charles Gale Jr. of Metropolitan Water District have been nominated to join the 2020 National Association of Home Builders (NAHB) Leadership Council to represent Southern California.

BIASC Baldy View's Carlos Rodriguez has been named the NAHB Liaison for BIA of Southern California including the Baldy View, Los Angeles/Ventura, Orange County and Riverside County Chapters.

BIASC would like to thank current NAHB representatives for their continued leadership and representation on the NAHB BILD PAC Board: Jim Smirl (Vanguard Builders, Inc.), Dan Leigh (Corman Leigh Companies), Will Cooper (WNC), Will Cooper Jr. (WNC), and Charles Gale Jr. (Metropolitan Water District).


BIASC Leadership Meeting with the U.S. Department of Housing and Urban Development
View Recap + Photos »


SAVE THE DATE: BIASC Federal Advocacy Trip
Join BIASC Leadership for an advocacy trip to our Nation's Capital. Details to follow. Please contact Ana Gromis at agromis@biasc.org for more information.
| | |
| --- | --- |
| REGIONAL | Click below to view each BIASC Chapter's Advocacy Updates |
SAVE THE DATE

March 10-12
Washington D.C. Federal Advocacy Trip

April 16
PAC Gala
Save the date for the 2020 BIASC PAC Gala at the Richard Nixon Presidential Library and Museum

October 6-8
BIS 3.0
Read Full Release »
UPCOMING EVENTS

February 19
Seismic Vulnerability Workshop
BIASC Office
Learn from Optimum Seismic, Inc., Southern California's leading retrofit company, the latest earthquake retrofit engineering and construction methods, what building types are "vulnerable" and what retrofits are necessary for maximum safety.
RSVP Today »

February 19
GSMC Builder Perspective
RSVP Today »

February 20
Council on SAGE Breakfast: Technology Driven Sales - Adapt or Be Left Behind
RSVP Today »
| | |
| --- | --- |
| REGIONAL | Click below to view each BIASC Chapter's Full List of Events |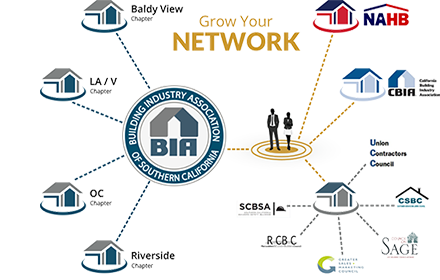 Hello BIASC Members,

Please join us in welcoming our newest BIASC members! Connect with a powerful network of professionals involved in building and construction.

View Member Benefits »
Follow BIASC across our social media outlets and stay up-to-date on the latest building news, industry accomplishments and member updates!
Council on SAGE

Council on SAGE President Katja Martinez (JZMK Partners) welcomed members to the first meeting of 2020 and led a champagne toast in honor of the Council on SAGE's 30th Anniversary.
NAHB PAC Trustees

A snapshot of your representation to the National Association of Home Builders from BIASC!

Pictured: BIASC-NAHB Liaison & Building Industry Association - Baldy View Chapter CEO Carlos Rodriguez with NAHB BUILD PAC Trustees Jim Smirl (Vanguard Companies), Dan Leigh (Corman Leigh), Will Cooper Jr., Will Cooper Sr., and other Northern Californian representatives.
GSMC Award

Congratulations to our Greater Sales + Marketing Council on receiving the Gold Award for best Sales & Marketing Council of the Year at the National Association of Home Builders Nationals 2020 Gold Awards.
New Home Showcase

Introducing New Home Showcase, the #1 online traffic sales generator in SoCal for homebuilders. Start your 30-day free trial today by clicking below or emailing listingsupport@biasc.org.