Message from the CEO

Hello BIASC Members,

Doing in business in California is changing and so are we. As BIASC continues through this pandemic, we will continue to create new ways to provide you with high-level information and contacts in several new ways.

Keeping our businesses open starts with continued communication with our members as we proceed with advocacy and networking programs throughout the Summer while finalizing our Fall schedule.

Connecting and growing your business during this time is our top priority. Below are some key upcoming events you won't want to miss.


Happening Now
Doing Business in CA series: Government & Your Business: Front Row LIVE Webinars: Register Here
Miss baseball season? Tune in to our special webinar "Business, Baseball & the Building Industry" on July 17th: Register Here
Coming Soon
New Summer reading via BIASC Digital Magazine. Don't miss the opportunity to advertise to our 1000+ member companies and their 6,000+ employees: Reserve your ad space now
Become safety certified through our brand new BIA Academy
Latest edition of the California Investor Report to drop on July 15th: Subscribe Now
In-person networking events! Check out our Events Calendar for more information.

We appreciate your continued support and patience as we battle forward.

Sincerely,




Jeff Montejano
CEO, BIA of Southern California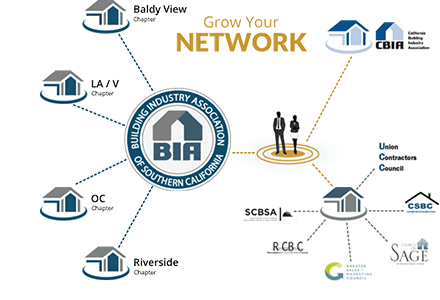 Hello BIASC Members,

Please join us in welcoming our newest BIASC members! Connect with a powerful network of professionals involved in building and construction.

Interested in learning more about BIASC membership benefits? Please contact Director of Membership Kaitlin Radcliff at kradcliff@biasc.org or 949-777-3857.


MAY + JUNE 2020
NEW MEMBERS














MAY + JUNE 2020

ADDITIONAL RENEWING MEMBERS
Alpaca Enterprises, Inc.
Beverly Hills Security Service
BJ Palmer & Associates, Inc.
Builders Site Security Service - Beverly Hills
Burbridge Design Group, Inc.
CBC Framing, Inc.
Dawn Residential
Environmental Construction, Inc.
FSI Design
GFR Homes
Granitex Construction Co., Inc.
HB JBR Engineering, Inc.
Law Offices of James L. Ross
MConsensus
Merit Framing, Inc.
MJD Concrete Works Inc
Morey Construction Inc.
NorthStar Contracting Group, Inc.
Oakridge Landscape Inc.
Parkco Building Company
Parkco Construction, Inc.
RHA Landscape Architects Planners, Inc.
Robertson's Ready Mix
RRM Design Group
Sagemark Consulting
Snyder Diamond
Tejon Constructors Inc.
TM Grady Builders Inc.
Watson Legal Group, APC
LAUNCHING SUMMER 2020

Introducing
BIASC Digital Magazine

This exclusive BIASC member-only magazine will feature industry news, membership highlights, and articles written by BIASC leadership, our BIASC Team, CBIA, our advisors, and YOU, our members!


BIASC DIGITAL MAGAZINE ADVERTISING

Grow your business by advertising with BIASC Digital Magazine! Reach BIASC builders and members exclusively through our online digital magazine which will feature clickable links to your website or contact information.

EXTENDED DEADLINE
Only a Few Ad Spaces Left

Ad Reservation Space Deadline
Friday, July 17, 2020

Ad Material Deadline
Monday, July 20, 2020
QUESTIONS?

Please contact our team and we'll help provide you with answers right away!

Karissa Willette
BIASC Public Affairs Manager
Email | Direct: (949) 777-3859

Laura Barber
BIASC VP of Events
Email | Direct: (949) 777-3861
BIASC
The Future of Doing Business in California
Part 1: A Regional Outlook

DATE: Thursday, July 16, 2020
TIME: 10:00 AM


BIASC
Baseball, Business, & the Building Industry

DATE: Friday, July 17, 2020
TIME: 10:00 AM


BIASC Baldy View Chapter
Advanced Mechanics Lien Seminar

DATE: Tuesday, July 21, 2020
TIME: 9:00 AM


BIASC
The Future of Doing Business in California
Part 2: A Regional Outlook

DATE: Wednesday, July 22, 2020
TIME: 10:00 AM


BIASC Council on SAGE
30 Year Celebration of SAGE

DATE: Wednesday, July 29, 2020
TIME: 4:00 PM


UPCOMING EVENTS
July 21, 2020
BIASC Baldy View Advanced Mechanics Lien Seminar
RSVP Today »

August 3, 2020
BIAOC 53rd Annual Golf Tournament - Sold Out
Learn More »

August 14, 2020
14th Annual Southern California Water Conference
RSVP Today »

August, 21, 2020
BIAOC 6th Annual Women's Conference
RSVP Today »
COMING SOON

More Details to Follow
August 6, 2020
Virtual Happy Hour with a Special Performance Award-Winning Mentalist Kevin Viner

August 12-20, 2020
Virtual Meet the Builder

August 31, 2020
BIASC Los Angeles/Ventura Chapter Golf Tournament at Moorpark Golf Course - New Date

September 23, 2020
BIASC PAC Gala
Learn More »

October 6-8, 2020
2020 Building Industry Show
Learn More »

October 26, 2020
BIASC Riverside Chapter Golf Tournament - Sold Out

To Be Announced
BIASC Los Angeles/Ventura Skeet Shoot
2020 BIASC PAC Gala

DATE: Wednesday, September 23, 2020
TIME: 5:00 - 8:00 PM

LOCATION
Richard Nixon Presidential Library and Museum


BIS 3.0

DATES
October 6-8, 2020


Search and post for jobs at BIASC's Job Board

Searching for a new opportunity or seeking a new team member? Check out BIASC's Career Center.


Introducing:
The California
Investor Report

New Report Releasing
Wednesday, July 15th

The California Investor Report is BIA of Southern California's newest subscription-based service offering an invaluable source of information for real estate professionals and investors worldwide who are interested in the latest news and data impacting California's dynamic residential real estate market just a click away.


Follow BIASC across our social media outlets and stay up-to-date on the latest building news, industry accomplishments and member updates!
YOUR ADVERTISEMENT HERE
Advertise to thousands of industry members here!
Contact Karissa Willette at kwillette@biasc.org for more information.