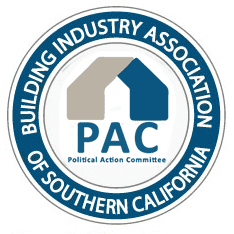 The PAC's mission is to identify, educate and support candidates for elected office who maintain integrity with an understanding of the building industry, and to recognize its contributions to the health of the overall economy.
In order to achieve that mission, the BIASC PAC raises money to financially support individuals running for public office and seeking re-election who are supportive of the building industry and are completely committed to the American Dream of homeownership and the value of free enterprise.
Governed by 11 trustees who are nominated by our four chapters, the BIASC PAC meets monthly to address Southern California's political landscape.
Includes discussing items such as which city council members, water board members and school board members have demonstrated a commitment to increasing the local housing supply and making homes more affordable to working California families.
BIASC works hard to keep its members aware of the latest issues that affect their ability to build homes in Southern California.
BIASC's Public Affairs Department communicates the association's messages to our members and the general public. Our team recognizes that open and ongoing communication is just as important as the message itself. We therefore maintain strong relationships with the media, responding to all inquiries quickly, coordinating reporters' interviews with industry leaders, and working with print, radio and television outlets to publicize the good work that homebuilders do.