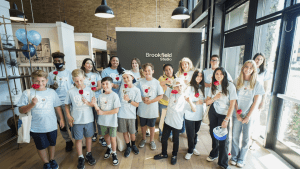 The Building Industry Association of Southern California (BIASC), in partnership with the BIA Los Angeles/Ventura Chapter and lead sponsor SoCalGas, has announced that it will host the 2023 Junior Builder Camp, taking place at the SoCalGas Energy Resource Center in Downey from June 19 through June 21. Created to inspire the "Next Generation of Builders," the program, sponsored by renowned homebuilder Brookfield Residential and Meruelo Enterprises, will offer 30 Junior Builders between 9-14 years of age the opportunity to experience multiple disciplines within the homebuilding industry, including construction, architecture, and engineering. Campers were selected from local youth organizations including STEAM:CODERS, YMCA of Metropolitan Los Angeles and Boys & Girls Club of Whittier.
The three-day program will offer Junior Builders a variety of engaging activities, including a tour of the SoCalGas' Hydrogen Innovation Experience (H2IE). The Hydrogen Innovation Experience (H2IE) is the first fully integrated demonstration in the U.S. aiming to illustrate how green hydrogen can be used in pure form or as a blend to fuel clean energy systems. A model of the home was featured on BIASC's 2023 Rose Parade float – designed by the Junior Builders – making the visit especially rewarding. Campers will also attend a guided field trip to Toll Brothers' new home construction site Metro Heights, and even design a home of their own, both individually and in a group setting. The program's co-founders, Maddie and Mia Montejano, will be available onsite throughout the camp to guide Junior Builders through online design exercises while providing one-on-one peer support. Additional special guest speakers will include BIASC CEO Jeff Montejano, SoCalGas leadership, and elected officials.
"We're thrilled to partner with BIA Los Angeles /Ventura Chapter and SoCalGas to provide our Junior Builders with a truly enriching experience," said Jeff Montejano. "It's an honor to play a role in encouraging youth to pursue fulfilling careers in STEAM. Our Junior Builders impressed us with our Rose Parade float. We can't wait to see what they'll do this summer."
"We are excited to partner with the BIA for their Junior Builder summer program, where young students will be exposed to career opportunities in the building industry. We look forward to hosting the group at SoCalGas' Energy Resource Center and inspiring the students about clean energy solutions with our H2IE Home," said Trisha Muse, Director of Community Relations at SoCalGas.
While enrollment for this summer's 2023 Junior Builder Camp is already closed, BIASC's local chapters will be hosting individual Junior Builder Camps in the future. For more information regarding the Junior Builder Program, please contact BIASC Director of Membership Services Lisa Meadows at lmeadows@biasc.org.