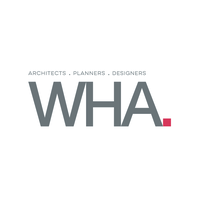 CONTACT:
Allie Martin
(949) 250-0607
alliem@whainc.com
Four Key WHA Projects Approved in Orange County and Los Angeles, Including Ventura, Recovering From Recent Thomas Fire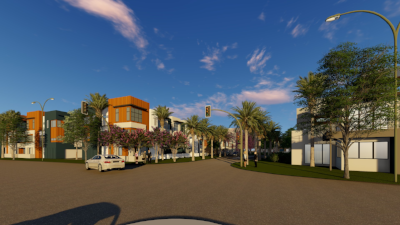 TUSTIN, Calif. – CalAtlantic's Levity was unanimously approved by the Tustin Planning Commission on November 28th. The 218-unit plan within Tustin Legacy was designed as a transition between a future high-density neighborhood and Greenwood, the existing community of traditional single-family detached homes that WHA designed a few years ago. WHA's Rendering Studio created a video showcasing the community, which played a key role in achieving the successful approval.
Levity features three exciting new product types. The higher density 3-story townhomes feature WHA's new "Atrium Court" concept. In the middle of the site are "Next Gen" flats with a second-floor getaway bonus room and roof decks. These small square footage units provide first-time-buyer affordability. On the east side are "Next Gen" cluster single-family, 2- to 3-story homes with roof decks and pocket yards.
TUSTIN, Calif. –  CalAtlantic's Levity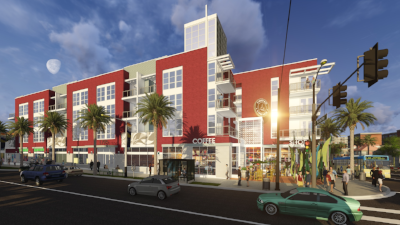 AMCAL's Las Ventanas received a very enthusiastic, unanimous approval from the City of Long Beach Planning Commission on December 7th. Located at the key intersection of Long Beach Boulevard and Pacific Coast Highway, it will be the first project within the newly created Midtown Specific Plan.
Las Ventanas is a high-density (104 du/ac) mixed-use development with 102 affordable family units over retail. It is located at the Metro Blue Line stop and a bus stop/transfer station. The podium design provides for 77 parking spaces and 5 motorcycle spaces, taking advantage of a State law that allows only 0.5 parking spaces per unit for affordable housing located in proximity to transit stations.
Units range in size from studio to three bedrooms and focus around a landscaped podium courtyard with a tot lot. The development includes a four-story tile mural at the retail corner.
LONG BEACH, Calif. –  Las Ventanas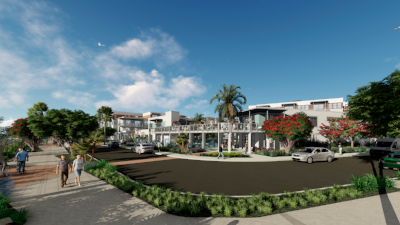 Johnson Development Associates' (JDA) Ventura Trianglealso received unanimous approval from the Ventura Design Review Committee in a special session on December 14th. The hearing had been delayed eight days and relocated due to the Thomas Fire. The 231-unit contemporary luxury apartment complex is adjacent to the downtown area on one of the last remaining large oceanfront parcels.
Numerous residents spoke in favor of the project, urging a unanimous vote while citing Ventura's general lack of housing and quality rentals, and the tremendous housing need in the wake of the destructive fire where approximately 700 units were lost within the City limits. Acting Chair Tyson Cline said that JDA should write the book on how to get a project through the review process in Ventura, noting that at every point the JDA team responded to the advice and recommendations of the Committee with creativity beyond their expectations.
The site's amenities include a distinctive community recreation center, a public promenade overlooking the ocean, a marine-themed playground, co-working and live-work spaces, and a park with a footbridge leading to the beach. The park will also serve as a satellite for the Ventura Botanical Garden.
VENTURA, Calif. –  Johnson Development Associates' (JDA) Ventura Triangle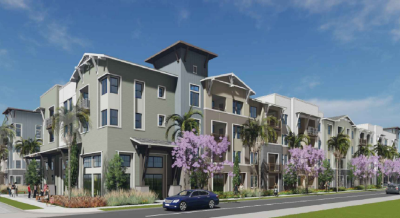 Shopoff Realty Investments' Downtown Anaheim project received unanimous Planning Commission approval on December 14th. The 20.5-acre former industrial site, located in the Anaheim Colony area near the Packing House, will provide a variety of housing types including 160 townhomes, 72 single-family homes, and 314 apartments. Extensive community amenities include multiple pools, a clubhouse with a fitness center, a dog run, and playground. Homes will provide rooftop decks, patios, and balconies for an enhanced indoor-outdoor living.
Since the site is located within the Anaheim Colony Historical District, the traditional and modern architecture was also approved by the Historic Preservation Committee in May of this year.
ANAHEIM, Calif. –  Shopoff Realty
To view WHA's 3D Animations on these recently approved projects, click here.
About WHA:
WHA Inc. (William Hezmalhalch Architects) is a comprehensive land planning and architectural design firm that specializes in the shaping of new communities, and reshaping of urban and existing in-town neighborhoods. For over 35 years, WHA has been the go-to firm for creating projects rich in diversity, creativity, and forward-thinking solutions. With offices in Orange County, Los Angeles and Bay Area, California, WHA has served numerous agencies, builders and developers, with an intense effort to over satisfy and maintain their confidence. WHA possesses a unique blend of visionary design professionals skilled in the various disciplines of Architecture, Planning, Community Design, Urban Design and Global Planning.