FOR IMMEDIATE RELEASE
LaCANTINA DOORS RECEIVES 2018 CRYSTAL ACHIEVEMENT AWARD
 LaCantina's Interactive Video Series selected for Best Marketing Program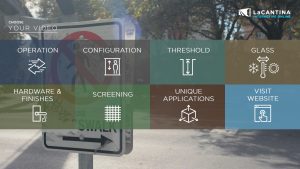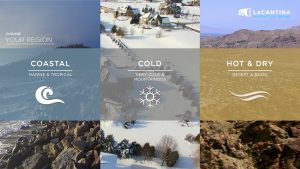 San Diego, CA – (September 13, 2018) – Window & Door announced the winners of its annual Crystal Achievement Awards, recognizing residential window and door manufacturers and suppliers for outstanding contributions to the industry. LaCantina Doors (LaCantina) earned top honors in the Best Marketing Program category for its innovative and industry first interactive videos series.
"Every year, we receive nearly 100 entries of products and processes that remind us of the true innovative spirit of the industry," says Emily Thompson, editor in chief, Window & Door magazine. "The winning entries present creative solutions to the industry's challenges and portray the next evolution of fenestration trends."
Award winners were selected by a well-respected panel of judges with decades of industry experience. Each expert judge evaluated every entry against specific criteria and cast their ballot for the products, processes, programs and machines they deemed to have a substantial impact on the advancement of the industry.
Unlike traditional videos, LaCantina Interactive allows viewers to only watch the content they want by choosing categories within those videos of interest, and actively engaging with the content that they deem is important or most relevant.  Filmed in a high-quality 4HD short story style complete with full-panoramic views, LaCantina Interactive educates the consumers on the company's open space products and allows viewers to experience how their material and design choices will look from the inside-out, backwards and forwards.
"LaCantina Interactive will help guide consumers and builders through the process of understanding and choosing the right products based on their preferred system type and where they live," stated Lee Maughan, Vice President and General Manager, LaCantina. "The creation of the interactive video series puts us at the forefront of the digital experience and shows LaCantina's innovation extends beyond the products we develop."
The 2018 Crystal Achievement Award winners will be featured in the September Issue of Window & Door magazine and online at WindowandDoor.com .
###
About LaCantina Doors 
LaCantina Doors is the leader in designing and manufacturing products that create large open spaces. Offering the most innovative and comprehensive range of folding, sliding and swing systems available, LaCantina Doors utilizes the same signature narrow stile and rail profile across its product line for a complete and perfectly matching door package.
Designed and made in California, LaCantina Doors have contributed to award-winning projects ranging from residential to retail, commercial, educational facilities, and resorts and is the preferred choice when it comes to products that open spaces. Backed by an industry-leading warranty, LaCantina Doors are available across the United States and internationally.  LaCantina Doors was acquired by Jeld Wen in 2015.
For more information on LaCantina Doors, please visit www.lacantinadoors.com.
About Window & Door
Published eight times a year, Window & Door serves the entire residential fenestration industry, including manufacturers, distributors, and dealers. Window & Door has an experienced editorial team and offers readers focused news coverage; insightful articles on market and design trends; regular columns on codes, legal issues, and marketing ideas; full coverage of new products; and expert articles on operations and technology. Visit WindowandDoor.com for more information
To learn more about Window & Doors 2018 Crystal Achievement Awards,  contact Emily Thompson at etaylor@sgcmail.com or (703) 442-4890 ext. 150.
Business Inquiries Contact: sales@lacantinadoors.com or 888-221-0141
Media Contact: Benjamin Woo, LaCantina Doors Marketing Director, benjaminw@lacantinadoors.com or 760-547-8612